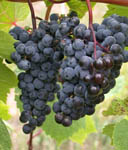 ---
Grape Breeding Techniques
Grape Breeding at MAVO
---
For additional information contact:
Mark Hart, Owner
Mt. Ashwabay Vineyard & Orchard

Welcome to the Mt. Ashwabay Vineyard & Orchard Website
Our website is under development
More content will be added after the 2014 growing season
About MAVO
Mt. Ashwabay Vineyard and Orchard is currently dedicated to research and evaluation – commercial production is a possibility in the future. The vineyard is located about 3 miles south of Bayfield, Wisconsin; on the south shore of Lake Superior. The primary mission of the vineyard is to breed and evaluate grapes suitable for fresh consumption and wine-making that can be successfully grown in a short-season, cold winter, continental climate. The growing season at MAVO averages about 1900 Growing Degree Days (base 50F), and has an extreme annual minimum temperatures of -28F.
The vineyard site is on a moderate south facing slope that overlooks the Chequamegon Bay - Apostle Island region of Lake Superior. The vineyard soil is a very well-drained, deep to moderately deep loamy sand. The proximity to Lake Superior moderates extreme winter temperatures in comparison with areas away from the lake, and the vineyard benefits from heavy lake effect snowfalls which insulate tender vines, which are trained close to the soil.
All material Copyright © Mark Hart, 2002-2012